"Being appointed Director of Golf at Teign Valley Golf Club is a fantastic and exciting opportunity. I am thoroughly looking forward to providing complete golfing solutions, developing the juniors section, coaching members and introducing new golfers to the club through the 'Get into Golf' scheme. I believe my broad knowledge and friendly approach are key to delivering an extremely high level of service to members and visitors alike" Mark Hurst - PGA Professional.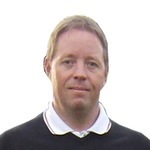 Mark Hurst - Director of Golf / PGA Professional
I was born and raised in South Africa and left in 1996 at the age of 25 to pursue a golf career in the UK. I have always been a keen sportsman and loved the outdoors with golf being my major passion. In 1998 my road to becoming a PGA Professional started at Sidmouth Golf Club under the guidance of Hayden Barrell. With Hayden leaving Sidmouth GC I also decided to move on and completed my PGA training at East Devon Golf Club where I qualified as a PGA professional in 2000. Shortly after qualifying I joined the team at Clifton Hill Driving range as head teaching professional. While I was there I was able to branch out and develop my teaching skills using high tech teaching systems including video analysis, biomechanics, force plates and launch monitors. In 2011 I moved to Fingle Glen Golf Club where a year later I become their head professional. I thoroughly enjoyed my role as their Head Professional providing a well stocked competitively priced shop. I have had a tremendous time serving the members and visitors and have thoroughly enjoyed developing and improving golfers of all standards. After a short spell at Exeter Golf and Country Club I was appointed Director of Golf at Teign Valley Golf Club in May 2016. I offer individual and group coaching on all aspects of the game to all ages and abilities and believe the use of my FlightScope Launch monitor complimented by video analysis helps me to deliver an exciting, comprehensive and very effective lesson experience. Using my FlightScope and Loft & Lie machine are hugely important in helping me deliver accurate custom fitting solutions to ensure the clubs you buy will always perform to their optimum for your individual swing. With the use of my Flightscope I am also able to maximise your launch settings and measure your yardages which are key areas that will help lower your scores and deliver more enjoyment to your game.
---